Drainage


Ground water poses a threat for excavation works, construction of foundation pits and constructions of structures or foundation sunder the ground level. Lowering the ground water level under a required quota is carried out by drainage that can be either permanent or temporary. Permanent subdrainage is rather demanding both from the technical and financial point of view and, more over, always represents an appreciable interference into the water environment regime. That is why temporary lowering of ground water level is carried out more often, either with wells or by vacuum pumping- needle filters. Both methods are in operation only during the time construction works are carried out and after their termination the original water regime is restored. Wells are holes fitted with a gravel filter and a well screen. They are placed in the way that the depression curves of lowered groundwater level remain under the level of a deep est excavation.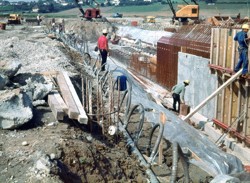 Vacuum pumping is carried out with the use of pumping needles disposed around the perimeter of the dewatered space and connected through a peripheral collecting pipe to an exhauster. It provides for underpressure within the whole system, which contributes to the in take of ground water into needles and subsequent lowering of the water level. In cases of deeper excavations the lines of pumping needles can be fitted in several altitudinal levels. Both systems of lowering ground water require permanent operation. That is why with these two systems there always needs to be a standby supply source available for the case of electricity failure.
Pumping from the drainage systems can only be stopped at the moment when the surplus loading of a construction is higher than the ground water upward pressure and restoring the original water level does not threaten the stability of the structure.



Pumping well with a fitted well screen


Collecting line of needle filters
with linked up needles



Example of permanent drainage
in a slide area with the use of gallery
with drainage holes leading into it.